I love introducing and making you aware of small businesses on my blog. Lucas Roasting is especially important to me because it's family. Troy, Jennica, and their two boys; Quinn and Kade live in Virginia. For as long as I have known Troy he has spoken about his love of coffee and the interest in roasting his own. Last year he purchased a commercial roaster and began sending us samples to try. I am not a coffee drinker, but Michael is and he had nothing but great things to say about Troy's coffee. Some of the words he used were "smooth", "mmmm", and "fresh"!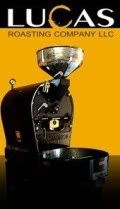 On their
website
you will find MANY different types of coffee. They offer:
visit some of the stores
that
Lucas Roasting
is featured. So, if you are a coffee lover head on over and order some of Troy's delicious coffee. (If you do, let me know and I will send you something SPECIAL) I am hoping to have some of the coffee to giveaway in the Spring during the Bloggy Carnival of Giveaways.
EDITED: Troy just emailed to let me know that to celebrate their grand opening online Lucas Roasting is offering a 25% discount through February 29, 2008!